---
Awesome DIY Roof Rack with Walking Solar Deck!
Super stoked to get our roof rack with the deck panels installed allowing us to get 600 watts of walkable solar panels on the deck! This thing is completely DIY. With this roof rack system, we have a Maxxair Fan, a 12v AC, a full deck, and 600 watts of walkable solar! Can't beat that.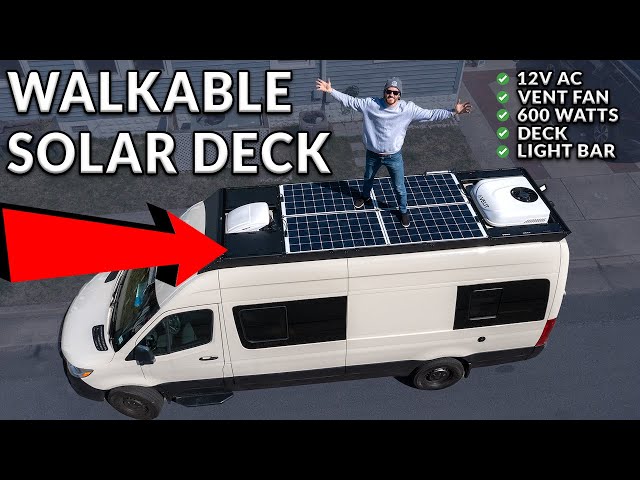 A deck panels
We installed 6 A deck panels on a FLVC rack for a low top sprinter. Had to drill a few holes but that wasn't all that big of a deal. They fit perfect!
Nice study deck so it's not so sketchy loading kayaks now.
175 Walkable Solar
Installed 3 175W walkable solar panels over the Orion Sprinter Rack and Roof Panels. Filled up the rack space perfectly with only 4"-5" of extra space. Electrical controllers not in yet so can't comment on them in use but the install looks good.
Awesome panels!
What can I say? They're great! Came exactly as described. Hardware was all there and very good quality. Install was even easier than expected. They went above and beyond to help me make sure I was ordering the correct panels.
They were the exact size listed in their description. Packaging was phenomenal to avoid any possible shipment damage.
I installed (5) "B" Panels on a Transit Van with a V2 Flatline Van Co. Lo Pro rack. With my setup I was required to drill (2) small bolts for crossbar spacing in the rear.
Roof Deck!
These roof panels were super easy to install and make it so much easier to attach things to my roof. With just the rails and only one ladder it's extremely difficult to strap down even a surfboard. Now I can get right up onto the roof with ease! Great product! Now it's time to install my roof top fan.
Roof rack
Great fit and easy install. We ate very happy with this roof rack!!!
Roof deck
Best roof deck on the market!