---
Awesome DIY Roof Rack with Walking Solar Deck!
Super stoked to get our roof rack with the deck panels installed allowing us to get 600 watts of walkable solar panels on the deck! This thing is completely DIY. With this roof rack system, we have a Maxxair Fan, a 12v AC, a full deck, and 600 watts of walkable solar! Can't beat that.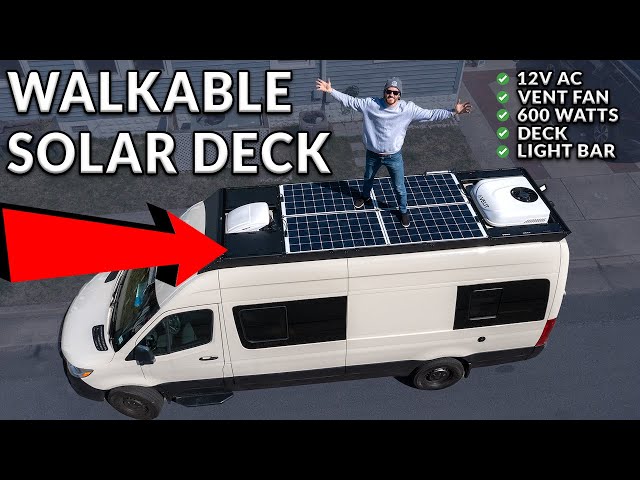 Sprinter Stealth Rack and Fiamma Awning
First off, again thank you to the crew. Helped me understand all the options and what to consider. The rack showed up quickly and the awning followed perfectly. I was able to install the roof rack by myself over a weekend. And with 2 little kids thats really saying something!!! Quality is outstanding and easy to adjust. Next up Ladder and roof panels. Thanks again Orion Crew!
Very happy with build and install process
I bought this one after much research because I liked the aesthetics best out of what I saw. Received high quality support through chat and successfully determined a configuration for my van, which already had some existing stuff up top to work around. Installation was straightforward. I was particularly impressed how organized the hardware was in the kit, and how short and to the point the install instructions were. I would say of all of the stuff I have bought for my van, this was the most intelligible set of hardware and instructions I have seen. I have not put the product through the wringer yet. Will post another review after a summer of gear shuffling.
Super Easy DIY Roof Rack
My wife and I installed the roof rack in a couple hours on our 177 2016 Sprinter. Orion provides a QR code that you can scan linking you to pretty foolproof illustrated instructions. The instructions were super easy to follow and make installation a lot less daunting! The materials are solid and very well made. The rack fits PERFECTLY on the van and we couldn't be happier. We also got the ladder, surf pole, and surf hooks. We LOOOVE them. The van is still a work in progress, but these additions are amazing. Thanks, Orion for making an awesome rack!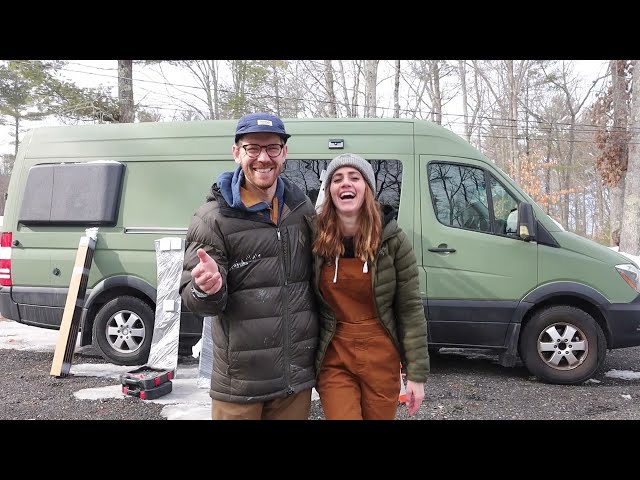 Not mounted yet.
I received my order and it is sitting in the unopened boxes it was shipped in awaiting that stage of my van build to be unboxed and mounted. Thank you.
Great DIY roof rack!
My husband and I are just starting out our first van build and installed this rack today! Instructions were easy to follow and as complete newbies reading instructions for the first time today it took us about 4 hours, with my husband doing a lot himself while I worked on something else intermittently.
Absolutely stellar roof rack!
I researched so many roof racks... and I mean SO many, ranging from budget to $6k+ options on the market. This rack was 100% the right decision for our Sprinter build. Incredibly easy to install, top-quality material, and thoughtful design. You can tell this was made for real, outdoor, rugged use. It took just a few hours to install (with 2 people) and it's solid after 2000+ miles on the road. If you're looking to get a rack that holds up and isn't the price of a new car, then get this one.
Thank you so much for your kind words and for taking the time to write this review. You are giving us van envy over here! Great job on the build. We are thrilled to hear that you had such a positive experience with our roof rack and that it exceeded your expectations in terms of quality and ease of installation. We take pride in creating products that are made to withstand rugged use, and we are glad to see that it has held up well for you. We appreciate your support and are glad to have been able to meet your needs. If you have any questions or need any assistance in the future, please don't hesitate to reach out.
Best regards, Team Orion
Stealth Roof Rack
The sleek look and versatility of the Orion Stealth rack make it ideal for my Sprinter. I like that they use 80/20 components as it makes it easy to attach what I need or reconfigure the rack.
Great Item for your Van buid!
Versitile and premium look.