---
We love it
We love the Promaster Stealth+ Roof Rack. It's designed perfectly to fit our fleet of vehicles at Boho Camper Vans. The rack looks sleek and cool, the quality is outstanding and the install directions are clear and straightforward.
Perhaps the best thing about our experience with Orion is the team. Matt and company are always available to answers questions when we need them and they're available to our clients as well. That's something hard to find and/or quantify.
We've already placed our first bulk order, and are gearing up to place our second. We look forward to a great relationship with Orion + Boho Camper Vans.
Love the Stealth + rack
After getting a Winnebago Solis hard top (Promaster 3500 extended), I purchased the specially made stealth rack, first of its kind (revised). I was able to install it completely by myself. I love it. I had to make some changes to the way Winnebago set up the Solis roof (items blocking the roof track area), but once that was done it fit perfectly. I had numerous emails back and forth with Orion, to discuss the options and they were great. I don't think I've ever had such personalized attention. Currently I've put a number of items onto the roof and plan some more refinements to increase solar, adjust storage and even have a little deck too.
I'm also going to add the ladder and awning to my rig in the near future.
Great Customer Service + Great Product
We love the look of this roof rack + ladder. We were able to install this ourselves without having to drill into the roof of the van. Not needing to drill into the top of the van and being able to install ourselves was important to us. You really need two people to install this rack, would be difficult to install alone. I was able to call with any questions and spoke to a real person. No automated recording/ leaving messages. Huge perk! Also got a hand written note along with my package. Love the personal touch! The videos along with the written installation guide made install go smoothly. Overall I would recommend this product to anyone!
Superb Quality Roof Rack for the RAM Promaster!
Five+ Stars!!
The Orion Van Gear Stealth+ Roof Rack comes carefully packed with bagged and wrapped parts, all clearly labelled. The easy step by step install directions come both in PDF and video form. (You can see in my attached video that I misinterpreted a bit.) While I did the entire install myself, two would make it faster, easier, and safer.
I required a rack that would be fully adjustable to provide the maximum roof space for solar panels and roof vent. The rack lets you mount the solar panels near with the top of the rack so they won't be shaded, yet stealthily won't see from the ground what you have up there.
I wholeheartedly recommend Orion Van Gear products to anyone considering a roof rack for their vehicle. The Orion Team periodically sent me emails to check in on progress and rapidly answered questions. Wonderful support!
I filmed the entire process, my errors included, without Orion Van Gear knowing; it is posted on my YouTube channel, RoadWhispers.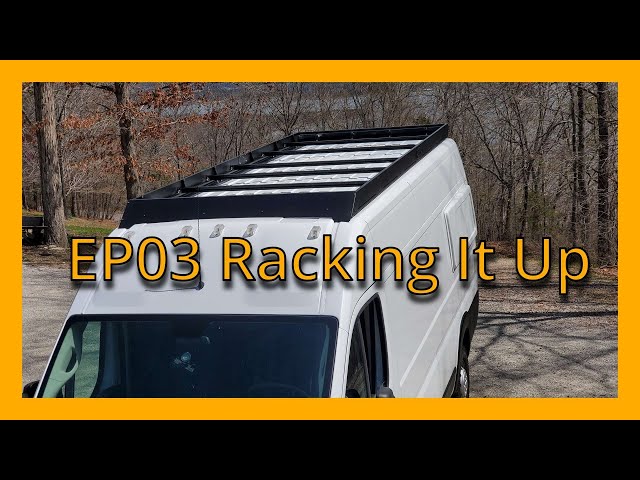 Stealth On !
I am extremely satisfied with my Orion Stealth Rack from the very carefully packed and wrapped parts to the easy step by step assembly directions to install it on my Promaster van. I required a rack that would be fully adjustable to fit the current roof components including Dometic air conditioning unit and solar panels! The Stealth worked out perfectly and will allow me to further adjust for all my river running gear including oars, kayaks, and related equipment! I wholeheartedly recommend Orion products to anyone considering a roof rack for their vehicle. 5 plus Stars and kudos to the Orion Company Crew !
Best Solis Pocket Rack and Customer Experience.
Very impressed with everything about this purchase. Great customer service from the Orion team. They needed to verify some measurements for my Solis Pocket configuration and they were on it in every way. once the rack arrived, the packaging was a step above. It arrived in perfect condition because it was packaged incredibly well. Once opened, assembled and installed, it all went flawlessly. Fit and finish was beyond expectation. Very solid company and product. you can see the attention to pride, quality, & detail that the team puts into the product. It is not the least expensive, but it is the best of the best and worth the extra cost.
Well made and nicely designed rack
We've installed a number of other modular roof racks, but the Orion rack is the best by far. The rack looks great, fits the Promaster like a glove, has the built-in versatility of the 8020 strut system--and most importantly--a very comprehensive set of assembly instructions! Like any modular rack, it takes a little time and preparation to install, but the results are top notch, and the process relatively painless. Thanks to Orion for producing a great product!
Product review
I love my Orion products. I get compliments on them all the time. Very well made and the customer service is unbeatable.
Just Amazing!
This rack lives up to the hype! It looks amazing and things went together well. The install would be easier if this was installed on a new van. I had to remove all of my old hardware and solar panels it took 2 people to bring everything off the roof. Having someone to help will make the install easier and safer. I did order the solar brackets for each panel but mounting them separately didn't make sense as there would be a gap between the panels. As you can see in the video, I mounted the panels on an aluminum L channel with 4 solar brackets per side. Even with the added height adding the rail the panels still sit flush with the rack. Remember to apply the included anti-seize on all your bolts as instructed! I didn't add the anti seize to the carriage mounting bolts and I galled one of them. If I get a chance I'll post photos later, but the YouTube video has everything.